My Blog
Posts for tag: root canal
By Joan K Knuth DDS
May 22, 2018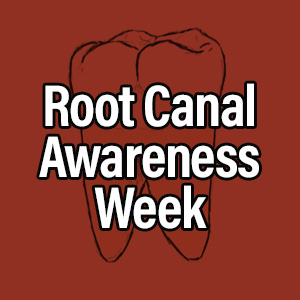 What's the first thing that comes to mind when you think of the month of May? Balmy breezes? Sweet-smelling flowers? How about root canal treatment?
The last item might seem out of place…but for the last ten years, Root Canal Awareness week has been celebrated in May. So let's take a closer look at this important—and often misunderstood—dental procedure.
What we commonly call a "root canal" is a special treatment that can save diseased teeth which might otherwise be lost. But the root canal itself is actually a set of hollow, branching passages deep inside the hard outer tissue of the tooth. The tiny "canals" contain the tooth's soft pulp, including nerves, blood vessels and connective tissue. These tissues help teeth grow during childhood but aren't necessary in healthy adult teeth—and, what's worse, they can become infected via deep cavity or a crack in the tooth's outer layers.
When bacteria infect the pulp tissue, the inflammation often causes intense discomfort. In time, the harmful microorganisms can also pass through the tooth's root and into the tissue of the jaw, resulting in a painful abscess. Eventually, if it isn't treated, the tooth will likely be lost.
Root canal treatment is designed to remove the infection, relieve the pain…and save the tooth. It is usually performed under anesthesia for your comfort. To begin the procedure, a small hole is made in the tooth's enamel to give access to the pulp; then, tiny instruments are used to remove the diseased tissue and disinfect the tooth. Finally, it is sealed up against re-infection. Following treatment, a cap (or crown) is often needed to restore the tooth's full function and appearance.
Despite some rumors you may have heard, root canal treatment is neither very painful nor likely to cause other health problems. So if you come across these discredited ideas, remember that dentists and dental specialists called endodontists perform some 25 million root canal procedures every year—and this treatment method  has been validated for decades.
Of course, like any medical procedure, root canal treatment is not 100% successful. While the procedure has a very high success rate, it's possible that additional treatments will be needed in some cases. However, the alternative—extracting the tooth—has similar potential downsides; plus a replacement tooth will be needed to avoid the health and lifestyle troubles caused by missing teeth. But one thing is certain: Ignoring disease in the tooth's soft tissues isn't a good move, because the infection won't go away on its own—and down the road it will only get worse.
So this May, while you're taking time to smell the flowers, spare a thought for the often-misunderstood root canal. If you'd like more information on root canal treatment, please contact us or schedule a consultation. You can also learn more by reading the Dear Doctor magazine articles "A Step-By-Step Guide to Root Canal Treatment" and "Root Canal Treatment: What You Need to Know."
By Joan K Knuth DDS
October 06, 2015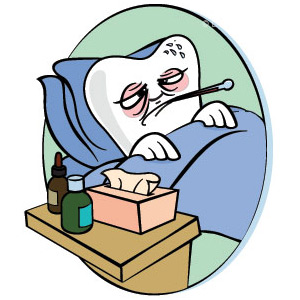 Which would you rather have — the flu or a root canal procedure? Nearly 80 percent of people recently surveyed by the American Association of Endodontists wisely chose the root canal. If this takes you by surprise, then let us bring you up to date on root canal treatment today. It's nothing like the experience that once made it the butt of jokes and a benchmark against which other "undesirable" experiences were measured.
The term "root canal" actually has two meanings. It is part of the pulp-filled chamber at the center of every tooth containing nerves and blood vessels that keeps teeth vital (alive). It's also the endodontic (endo  = inside; dont = tooth) procedure that treats inflammation and infection in this tissue. Common causes of pulp problems are traumatic damage (for example a crack, chip, or root fracture), deep decay, or gum disease.
The first sign of a problem is typically pain — ranging from acute and intense pangs when biting down, to lingering discomfort after consuming hot or cold foods, to a chronic dull ache and pressure, or tenderness and swelling in nearby gums. The primary pain may abate as the nerves in the pulp die, but the infection will continue, compromising the affected tooth, jeopardizing the health of the surrounding tissues, and often triggering secondary pain.
Pain-Relieving, Tooth-Saving Treatment
Endodontic treatment, by contrast, is no more uncomfortable than having a cavity filled. The tooth and surrounding area are numbed with a local anesthetic before the procedure begins. In order to access the diseased pulp, a small opening is made in the biting surface of the tooth. Tiny instruments are used to remove the pulp, clean and disinfect the root canal(s) and pulp chamber, and prepare the empty tooth interior to receive a biocompatible filling material to prevent bacteria from returning. A permanent crown may be placed over the tooth at that time, or a second visit may be needed. A crown (cap) is important to the tooth's long-term strength and functionality.
For a day or two following treatment you may experience temporary sensitivity, which often responds to an over-the-counter medication like ibuprofen. Occasionally, prescription medications, including antibiotics, may be needed.
All in all, doesn't saving a tooth sound easier and more constructive than coming down with the flu?
If you would like more information about root canal treatment please contact us or schedule an appointment for a consultation. You can also learn more about the subject by reading the Dear Doctor magazine article "A Step-By-Step Guide To Root Canal Treatment."
By Joan K Knuth DDS
April 09, 2015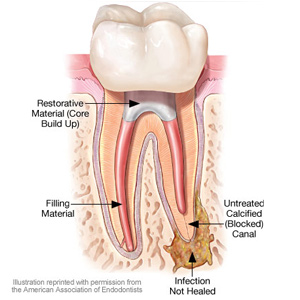 When decay spreads to the tooth's inner pulp, a root canal treatment may be necessary to save it. It's a common procedure: after removing all tissue from the pulp, the pulp chamber and root canals are filled with a special filling. The tooth is then sealed and a crown installed to protect the tooth from re-infection and/or fracture, possibly extending the tooth's life for many years.
Sometimes, however, the tooth doesn't respond and heal as expected: the number, size and shape of the patient's root canals may have complicated the procedure; there may have been a delay before installing the final crown or restoration or the restoration didn't seal the tooth as it should have, both occurrences giving rise to re-infection. It's also possible for a second, separate occurrence of decay or injury to the tooth or crown to undo the effects of successful treatment.
It may be necessary in these cases to conduct a second root canal treatment, one that may be more complicated or challenging than the first one. For one thing, if the tooth has been covered by a crown or other restorative materials, these will most likely need to be removed beforehand. In cases where the root canal network and anatomy are challenging, it may require the expertise of an endodontist, a dental specialist in root canal treatments. Using advanced techniques with microscopic equipment, an endodontist can locate and fill unusually narrow or blocked root canals.
Because of these and other possible complications, a root canal retreatment may be more costly than a first-time procedure. Additionally, if you have dental insurance, your particular benefit package may or may not cover the full cost or impose limitations on repeated procedures within a certain length of time. The alternative to retreatment, though, is the removal of the tooth and replacement with a dental implant, bridge or partial denture with their own set of costs and considerations.
The complications and costs of a repeated procedure, though, may be well worth it, if it results in a longer life for the tooth. Preserving your natural tooth is in most cases the most desired outcome for maintaining a healthy mouth.
If you would like more information on root canal treatments, please contact us or schedule an appointment for a consultation. You can also learn more about this topic by reading the Dear Doctor magazine article "Root Canal Treatment."